Home Page › Info › Advice › Garden Design › Colour Combinations
Colour Combinations
Crisp contrasts or subtle similarities?
Working with colours in garden design is one of the most important aspects to get right, Too many similar colours and the project will often look bland, yet add too many aspects of colour and this may lead to a confusion of focus. So getting colours that work together and the right amount is vital to give a good look.
The great thing about using natural stone in your design is that its quite easy to get a great looking garden. In we find that most of our inspiration for guidance comes simply from the surrounding landscapes. Looking at what materials have been used together traditionally in areas is almost a guaranteed way to make a success of your colour scheme. A fine example of this, is how spectacular Derbyshire limestone built houses look with their Cumbrian slate roofs. The light grey with speckles of white quartz works wonderfully with the deep blue slate.
Working with different colours in natural stone can transform your style of garden, Taking for example this modern black slate paving and white pebble design by one of our customers. Large contrasts of colours with crisp lines brings makes for an extremely successful combination. A superb look and a very low maintenance garden.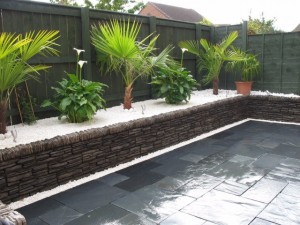 Where as this Space created by a another customer, which is also made up of mostly stone paving and pebbles couldn't look more different. A beautiful little space with subtle tones of browns and yellows has a completely different visual effect.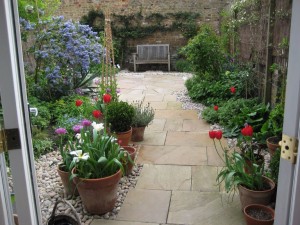 Right from the outset many garden designs have a colour theme. I would definitely start with a focus on the colours you want in your garden, obviously most gardens will have a lot of greenery already, with grasses, trees and plants. Aside from this your choice of colours in stone, flowers and landscaping materials is virtually endless. So the world is your oyster so to speak. Our products cover a vast range of colour, and if you don't see it in our online shop then we will probably be able to get it. You can even have pebbles resin colour coated and match your colours on a colour chart if your taste so desires!
We are always available to give advice on our products and help you go through your colour options and make a decision. So if you want a little bit of guidance please email us at Info@wadsworthdesign.co.uk