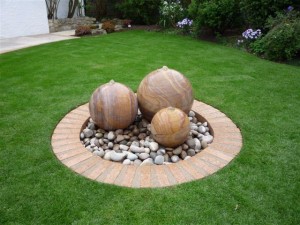 We are pleased to announce our first new products due for 2016 are sandstone spheres. These stunning solid stone spheres make fantastic decoration for any garden project. Created from beds of sandstone where the mineral and metal content has made beautiful veins of colour. The rainbow sandstone spheres are particularity vibrant in colour ranging from yellows through to purple, with each stone sphere being completely unique from the next.
Our sandstone spheres can now be found on our online shop and also have the option of being drilled to transform them into stunning stone sphere water features. as with all our stone water features, customers receive 25% off our water feature reservoirs and pumps to go with the items.
Our first stock is due in Mid January and we are now taking pre orders for the 300mm, 400mm and 500mm sandstone spheres in Rainbow and golden buff colours.