Home Page › Info › Advice › Rockery Stone › Rockery Stone Introduction
Rockery Stone Introduction
Having grown up with a family business in quarrying, I have had quite a lot of experience landscaping large rockeries including those within the quarry for safety and more decorative projects for both my own house, my parent's house, for family friends and customers. Over these projects I have gained much experience with choosing, positioning and finishing the rockeries. So to help you with your landscape projects I have written a few pages on how to go about building your rockery.
The benefits of rockeries
Rockeries are not just an attractive way of landscaping your garden but are also great for supporting banks, patios and providing more room in your garden by making level areas supported by the stones, transforming sloping gardens into flat, more usable spaces. Below shows a picture of my on going project of my own house which now has a lot more usable space due to the leveling of areas.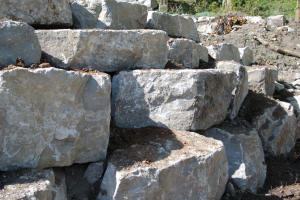 Building a rockery is also relatively simple, it can be as supportive if not more so than a wall, it costs a lot less and in my opinion looks a lot more attractive and unique.
Selecting your Rockery stone sizes
Positioning Larger Rockery Stones